Our office is located in the High Meadows professional development at 605 South Trimble Road, on the east side of Trimble, between Marion and Millsboro Roads. Our building is located directly across from Wedgewood Estates. However, THERE IS NO DIRECT ACCESS FROM TRIMBLE. A service drive (Meadow Lane) next to the Kidney Associates leads to our rear parking lot. You may park in front of or behind the building.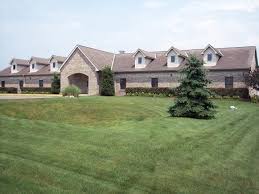 Our mission at Gottschling Chiropractic Center is to provide fairly priced, individualized, quality chiropractic care to people of all ages. If you just want "cracked" and/or are unwilling to make any lifestyle changes, this is probably not the place for you, and we can usually recommend offices that specialize in impersonal, generic care. However, if you are interested in maximizing your health and getting rid of that nagging problem once and for all, this is where you want to be. We strive to not only correct a person's health problems, but to educate and enlighten so that patients do not encounter similar problems in the future.
A Beautiful Chiropractic Office For All Your Wellness Needs
Facility
We are proud to provide a state-of-the-art facility for the highest quality chiropractic care available. It is one of our top priorities to protect the well-being of our valued patients. We are confident that you will feel right at home in our office as we welcome all patients as if they were family.
Appointments
If you would like to make an appointment, please contact our office by phone or email. Our office facilitates communications  and appointments are available and welcome, especially for new patients seeking help.
Many Major Insurance / Managed Care Plans Accepted:
Certified Ohio Bureau of Workers' Compensation provider
Medical Mutual of Ohio
Aetna
Cigna
United Health Care
Ohio Health Choice
Anthem
Ohio Medicaid
PLEASE CALL TO SEE IF WE PARTICIPATE IN ANY PLANS NOT LISTED ABOVE
Types of Payment Accepted:
Visa, Mastercard, Discover; friendly, pre-arranged payment plans available. Reductions available for prepayment of services for those without health coverage–please call for details!
Emergency / After hours information:
If you are a patinet of record and desire urgent, after hours care, please call the office number (419-756-2986) and select option #3, the "urgent care" menu choice instructions. If an emergency exists, please go to the nearest hospital emergency room without delay.
Cancellation
If you are unable to keep an appointment, we ask that you kindly provide us with at least 24 hours notice. We ask for this advance notice so that we can offer this appointment to another patient. A fee may be charged if a patient does not show up for an appointment without sufficient notice.
We would like to take this opportunity to thank you for choosing our practice for your chiropractic care.
Meet the Doctor
Martin J. Gottschling, DC
The Ohio State University–Associate of Arts 1983
University State of New York, Albany–Bachelor of Science 1990
Life University–Doctor of Chiropractic (DC) 1986
Board eligible for Chiropractic Rehabilitation Diplomat (this requires a successful completion of 300+ hour post-graduate instruction and hands-on therapy involving the care and rehabilitation of injuries of the neck, back and extremities taught in Chicago.)
McKenzie Back Therapy Methods, parts A & B completed
Clear Institute–good understanding and familiar with CLEAR Scoliosis Treatment methods (www.clear-institute.com)
Former president of the Mid-Ohio Chiropractic Association (MOCA) that serves Richland and 6 other counties.
Member of the Ohio State Chiropractic Association.
Dr. Gottschling holds chiropractic licenses to practice in Ohio, California and Florida.